Música
Dragtionary
DRAGtionary: el diccionario de RuPaul's Drag Race que necesitas saber
RuPaul's Drag Race: Werq the World pasará por Madrid y Barcelona y aquí tienes el 'dragtionary' para ir preparándote
¡Pues claro que sí! Si tú también entras a los sitios diciendo: 'Hello, hello, hello!!!" o dices aquello de: "If you can't love yourself, how the hell you gonna love somebody else?" ("Si no te quieres a ti misma/o, ¿Cómo c*ño vas a querer a alguien?" Amén, mama Ru!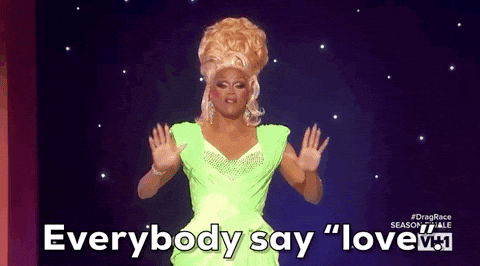 La gira de 2022 de RuPaul's Drag Race: Werq The World Tour ya es una realidad podremos vivir el espectáculo en nuestras propias pestañas en Madrid y Barcelona en junio del próximo año. Y es que, un experimento que salió mal ha enviado a Michelle Visage a una espiral a través del tiempo sin posibilidad de volver a casa. Asia O'Hara, Gottmik, Jaida Essence Hall, Plastique Tiara, Rosé, Vanessa Vanjie y Yvie Oddly se unirán a su viaje a través de periodos icónicos de la historia con la esperanza de encontrar el camino de vuelta a casa en 2022. ¡Y tenemos que estar preparados/as!
Aquí te dejamos el DRAGtionary: el diccionario que necesitas para ser toda una reina:
Beat: Aplicar el maquillaje de forma perfecta.
Ejemplo: "Girl, you beat your face so good, I can't stop looking at it." En español, diríamos algo así como: "Eeeellaaaa… te has maquillado la cara tan bien que no puedo dejar de mirarla!"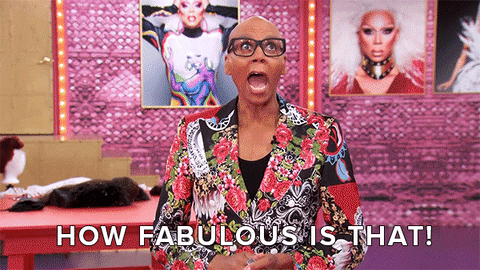 Charisma, uniqueness, nerve and talent: Los cuatro elementos que una reina debe tener para ser coronada en Drag Race. También es el acrónimo de "cunt".
Ejemplo: "You're going to need to use all your charisma, uniqueness, nerve and talent to win this challenge." En español: "Vas a tener que usar todo tu carisma, singularidad, nervio y talento para ganar este reto"
Condragulations/Felicidragues: La versión drag de dar la enhorabuena o felicitar.
Ejemplo: "Condragulations you are the winner of this week's challenge." En español: "Felicidragues! Eres la ganadora del reto de esta semana"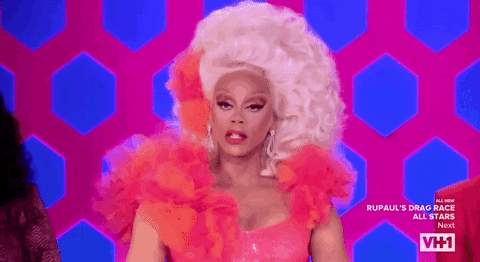 Dragmother: Las reinas del programa a menudo se refieren a sus 'familias drags', las familias que han formado con otras reinas o miembros de la comunidad gay cuando sus propias familias no les aceptaban. Dragmothers son las reinas que las acogieron bajo sus alas y les enseñaron el arte del drag.
Ejemplo: "Alyssa Edwards is dragmother to Gia Gunn, Laganja Estranja and Shangela."
Eleganza extravaganza: Una categoría de desfile donde las reinas deben demostrar pura elegancia.
Ejemplo: "The category is: eleganza extravaganza."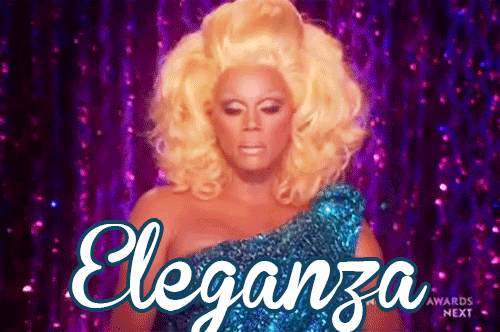 Fish: se refiere a parecer o sentirse "ultrafemenina".
Ejemplo: "Tonight I am serving pure fish on the runway."
Gag: Reacción física hacia algo que es realmente asombroso.
Ejemplo: "Her dress on the runway was so good it had me gagging."
Gurl/girl: Término que las reinas usan para referirse a otras reinas normalmente a la hora de criticarlas.
Ejemplo: "Gurl, look how orange you fucking look."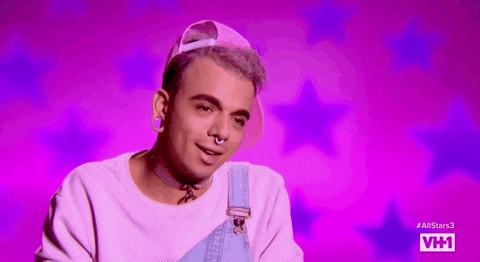 Lip sync for your life: Las dos últimas reinas de cada semana tienen que hacer playback de una canción entre ellas. La que menos impresione a Ru es eliminada.
Ejemplo: "The time has come for you to lip sync for your life. Good luck and don't fuck it up."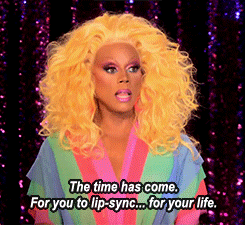 Read: Crítica o criticar. En Drag Race, el acto de "reading" significa ser salvaje y divertida. RuPaul abre la 'librería' para que las reinas puedan criticarse unas a otras una vez por temporada. Esto ha dado lugar al eslogan "Leer es fundamental".
Ejemplo:"I'm sick of the judges reading me for my outfits."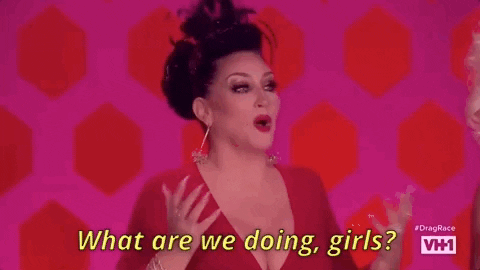 Realness: Hacer algo con autenticidad.
Ejemplo: "Tonight on the runway I'm serving Vivienne Westwood realness."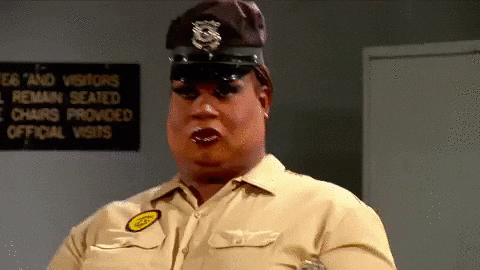 Sashay away: frase empleada por RuPaul para eliminar a las concursantes y que se ha convertido en uno de los momentos más icónicos del programa.
Ejemplo: "I'm sorry my dear, but the time has come for you to sashay away."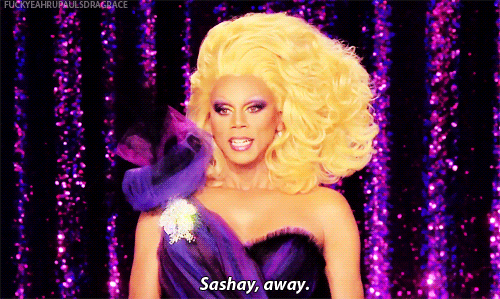 Serve: Uno de los términos más importantes en la lengua vernácula de Drag Race, "serve" es utilizar tu aspecto para ofrecer a los jueces algo sorprendente.
Ejemplo "Tonight on the runway I am serving executive realness".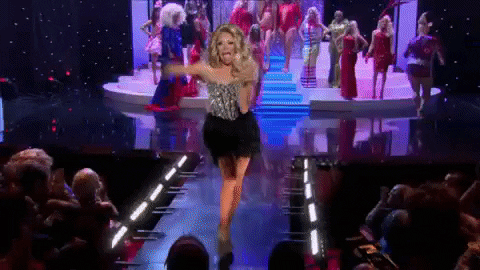 Shade: Insultar a alguien de forma malvada.
Ejemplo: "She was throwing serious shade when she insinuated you let the team down this challenge."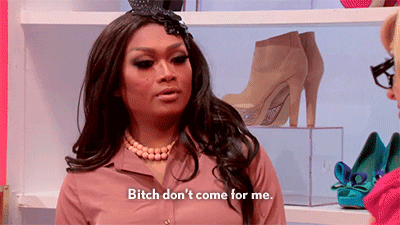 Shantay, you stay: Lo opuesto a "sashay away", así es como Ru le dice a una reina que ha ganado la prueba de playback y que sigue en el concurso.
Ejemplo: "Shea Couleé, shantay you stay."
Sickening: Se usa para designar algo que es tan increíblemente bueno que te vuelve loco/a.
Ejemplo: "Did you see her Beyoncé impression? It was sickening."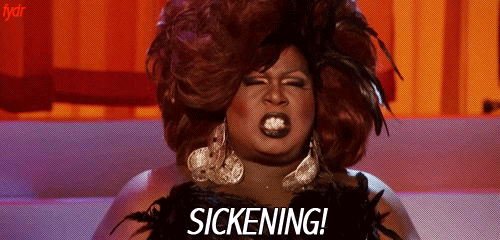 Sissy that walk: Salir a la pasarela como una supermodelo. ("Sissy That Walk" es también el nombre de un single del álbum Born Naked de Ru de 2014, el que suena mientras las reinas recorren la pasarela a lo largo del programa).
Ejemplo: "Now sissy that walk."
Tea/tee/T: Término que se usa para referirse a un cotilleo. "Spill the tea" es básicamente cotillear con alguien.
Ejemplo: "Are you free for drinks tonight? I've got some tea to spill."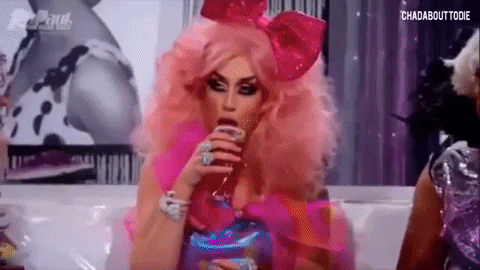 Tuck: ocultar los genitales.
Ejemplo: "Go backstage and untuck."
Work/Werk: Pavonearse en la pasarela.
Ejemplo: "You'd better work, bitch'